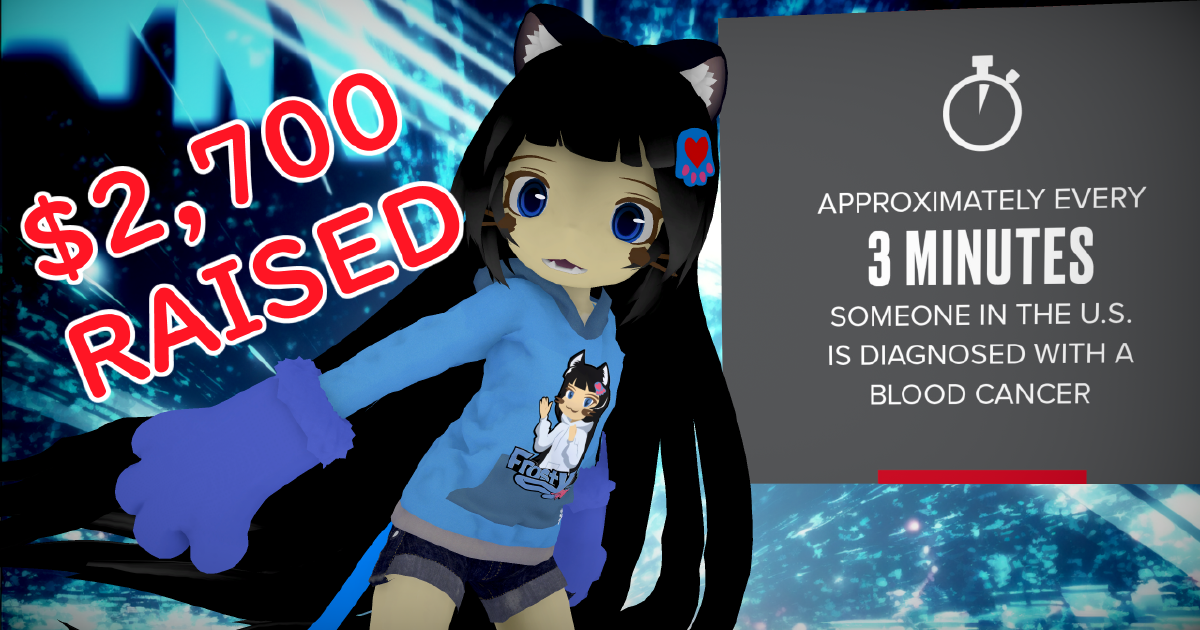 August 2nd, 2023
Charity Complete! $2,700 Raised
Organizing and running a charity event for the first time was… Daunting, to say the least. To my surprise, even though I made a lot of mistakes, we still raised $2,700 together! I couldn't be more amazed and proud of this wonderful community that we have here.
We did it!
AHHHHHHHHHHHHHHHHHHHHHH!
That's my reaction to how much we've raised. To be honest, while the goal of the was $10,000, I had never run a charity event on my own. So I honestly had no clue how much we would raise, nor how much was possible. From $500, $700, $1000, all the way to our final tally of $2700. All the support is truly amazing! Throughout the event, I've learned so much, and I couldn't have done any of this without the wonderful members of this community.
Looking Back
Looking back, I've wanted to host a charity event since the latter half of last year, 2022. During my inital planning stages, some advice from Kai Tokuro has stuck with me all this time. Kai told me the following:
So big questions, do you know who you want to raise money for and do you have any idea what you want to do? I personally tend to find a bit of better success when you are raising money for something you have a personal attachemnt or relation to but it's not necessary. Going with one that you really really like and appreciate will greatly up your success too. You just want to find something you can be passionate about.
If I'm going to host a charity event, then I wanted to make as big of an impact on others lives as possible. But what could I be passionate about? What charity would mean a lot to me that would allow us to raise a lot of money?
Well…
Hospital Visits
In May, two separate relatives went to the hospital for different reasons. One of them was my Uncle. My Uncle went to the hospital because he started to feel weaker, he started to get exhausted more easily and wasn't in a good spot overall. The symptoms that he was experiencing were tell-tale signs that he had caught Leukemia again. We know this, because it wasn't his first time catching Leukemia.
Now, for those that don't know, Leukemia is a cancer of the blood and typically requires a bone-marrow transplant and multiple treatments of Chemo-therapy in order for a victim to survive. It's a rough process, and not one that my uncle wanted to go through for a 4th time.
The bad news
For better or for worse, it appears that my uncle will be getting his wish. To our fears, instead of the cancer going into remission, it has instead infected both his liver and his brain. We fear that there's no way out of this, no way he's going to survive.
The cancer, this time, is terminal. Short of a miracle, he's going to die.
The doctors gave him 1-2 weeks left to live. The timer had started clicking down.
Charity planning
There isn't really much we could do at this point. With my uncle due to pass away, the most we could do is visit, make plans for what will happen after the inevitable, and fret over a future which has not yet come to pass. Or at least, that's what I thought until I realized that there ought to be charities that are raising money to fight Leukemia. I could spread awareness as well as raise money for a charity that is actively fighting the same cancer that is killing my uncle. So I got to work planning a month long charity event. I wanted people to have the opportunity to donate, especially on such short notice. A month long event was perfect.
Charity start
We knew that my uncle was going to pass away, but with all things in life, it's unpredictable. I was waiting for him to pass away before starting the charity that I had planned out. The first week passed, then the second, then the third. My uncle had far surpassed the doctor's expectations and we had no idea when he was actually going to pass away (spoiler, 10 weeks later and he's still kickin').
Since I didn't know when he was going to pass away, and it felt like he was going to "live forever" (so to speak), I decided it was time to just get the charity started. Stop waiting for something that I don't know when it will happen and start moving forward with everything I had planned.
It was time to start the charity event.
A Rough Journey
Planning for events, especially collaborative events, can be a lot more challenging than people realize it to be. There's a lot of moving parts and you've got to get all the kittens in order. You've got to reach out to people, make sure you have permission to do things, and overall communicate with everyone who is going to be involved.
This was my first large-scale event that I've ever planned. This was the first charity event that I've planned and run by myself. Though saying that I planned and ran it by myself isn't fair to the wonderful team who helped make it a reality. I was more of the project lead, which is still big for me. I am not used to leading projects and it was kind of scary.
Mistakes were made… A lot of mistakes and problems happened. Alerts weren't making any sounds so I had no idea when a donation happened. I streamed Zelda: Tears of the Kingdom, a highly anticipated game in which people didn't want spoilers for. I didn't properly advertise the charity consistently throughout the event. I could go on and on. Many of them, I couldn't fix "for next stream". I didn't have time! I was streaming nearly every day, as well as working full time to get projects at work done and more.
I had to move on. It's important to keep note as to what went wrong, but I can't get hung up over it. Keeping notes of went wrong is important as it allows for remediation at a later date. It's quite possible that some of them lead to fewer donations then what we could have achieved. That last fact is something I didn't realize until near the end of the charity event.
Final Push
Partnering up with C2Gripz, the race was on to raise as much attention as possible for the final days of the event. This was a huge effort and within the final week of the charity, we raised $700! That's nearly a third of all the money raised throughout the entire charity! C2Gripz helped with both getting the word out there, and with offering a pair of gripz to the highest donator. Their gripz have changed the way I hold my controller for the better and I've been using a pair of my own throughout the charity event. To sweeten the pot a little, I added a brand new XBox controller to the prize list to go with the gripz.
A huge thank you to everyone who helped out. Without the hard work of everyone involved, and those who stopped by to catch stream, I don't think we would have raised all two thousand and seven hundred dollars for the Leukemia and Lymphoma Society. I've learned a lot from this experience and I hope to apply what I've learned to the next time we run a charity event.
What's Next?
Our charity event ended on July 22nd. Immediately following the event, I visited my uncle to tell him the news of how much we raised together. He was quite surprised and apparently stayed up late into the night talking about it.
While the circumstances for the charity aren't that great (they're pretty bad, actually), my current plans are to take it easy for a while. Once my uncle passes away, I want to use that date for future charity events. Raising money for charity in the fight against cancer will become a yearly thing for me, to honor my dearly beloved uncle. I will miss you. Even though we weren't on the best of terms, couldn't relate to each other, and I wasn't fond of your teasing behaviour, I will miss you dearly. Thank you for all the wonderful work and I will continue to honor you and make a difference in other's lives.
God be with you 'til we meet again.
P.S. If you missed the charity, I will be uploading the VODs to this playlist on YouTube so you can catch all the fun moments we had.